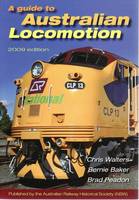 Subtitled "a guide book to diesel and electric locomotive running in commercial service today" this 2009 version is a godsend for those of us away from the country during the turbulent years of the mid 1990s through the late noughties.
Written by three knowledgeable authors this and the 2011 version of the book are a must read for anyone interested in understanding the locomotive types running in Australia in the second decade of the 21st century.
A worthwhile and very useful book for the train fan and modeller.